In this tutorial, we will cover Users Management.
1. Users menu
2. Groups management
3. Permission of groups
User menu
You can access the user menu by clicking on "Users and rights", and "Users" on the menu bar on the left (menu appears after selecting Parameters icon

).
You will access the list of users on your account, as well as information about them. To create a user, just click on the "New" button at the top right.
To modify a user, all you have to do is click on the line of the one that interests you. You will then arrive on a screen of this type :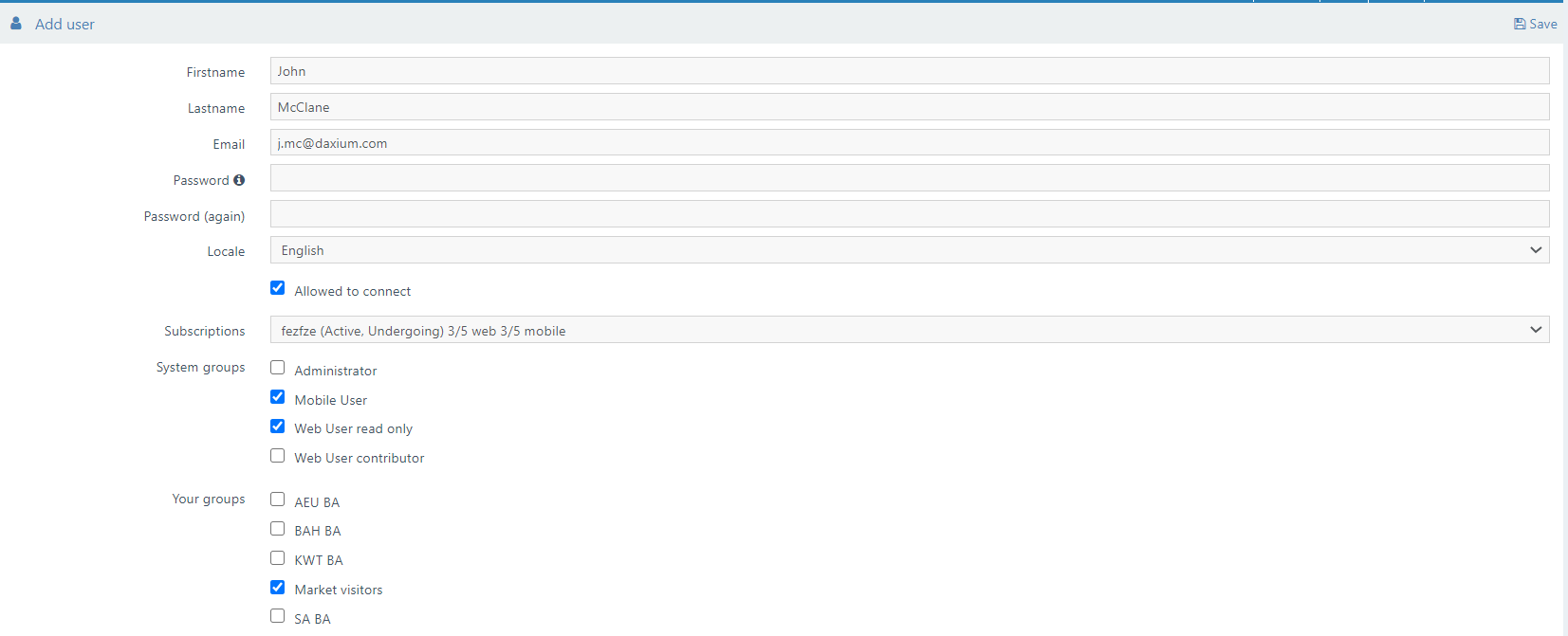 The first and last name are used to identify the user, however, for the connection the system uses email and password which the administrator can change at any time through this menu. As you can see, the password is not displayed and cannot be recovered without changing it.
Changing the user's language will change the language of the web interface the next time it is used. Knowing that the language on mobile is dependent on that used by the operating system.
Unchecking the "Active" box will prevent the user from logging in. You can manage your users' fleet with this feature if needed.
The "Administrator", "Mobile User" and "Web User" system groups allow you to assign rights to the user.
All those that you have defined yourself are displayed in "Your groups". You can assign one or more to a user. This will make it easy to spot them and give them rights according to their group.
Remember to save your changes before exiting a user's screen.
Group management
You can access group management in the menu on the left by clicking on "Users and rights" and "Groups". You will arrive on the list of groups you have created.

To modify its content, click on the line of the one that interests you. If you want to create a new one, click on "New" at the top right of the page.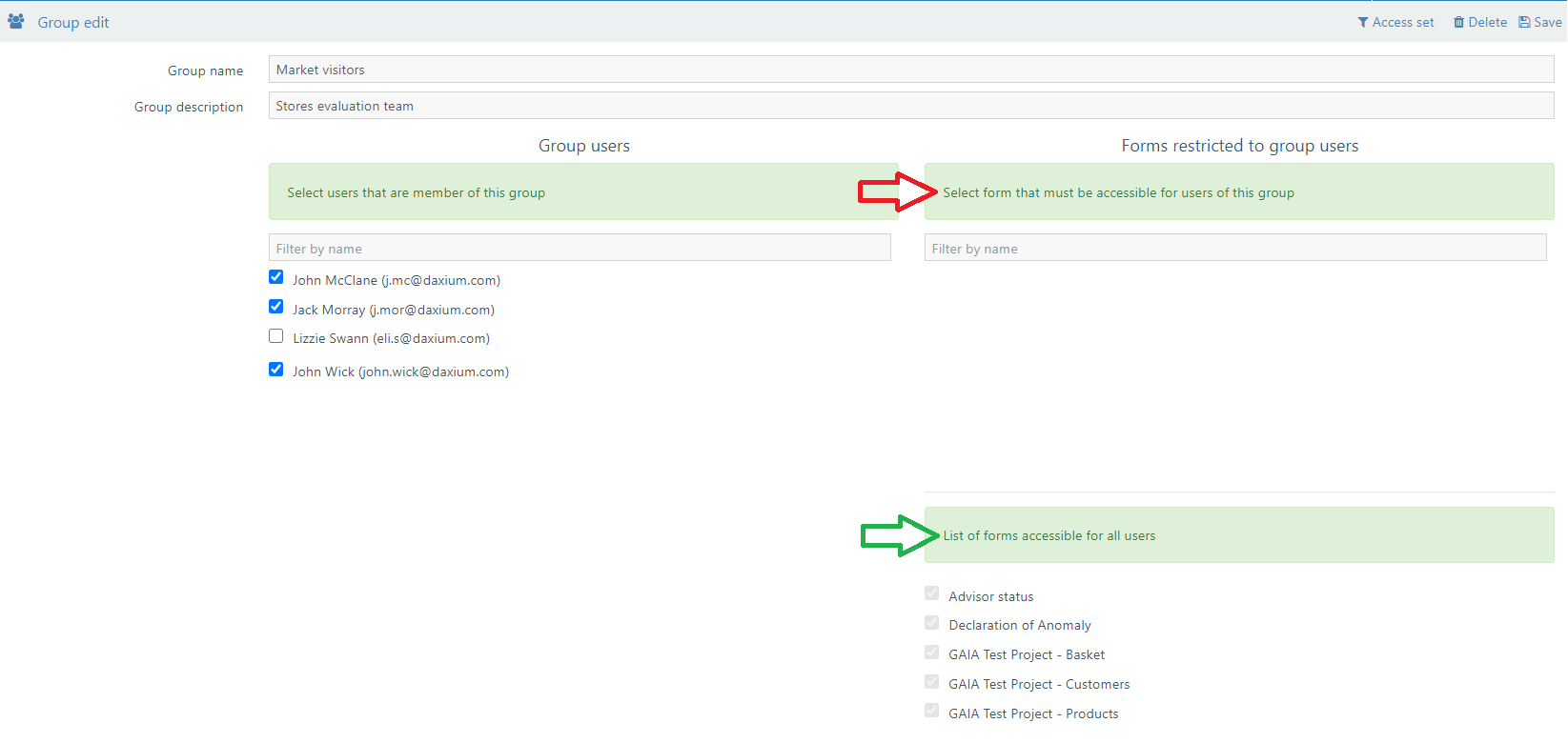 The mandatory elements are the name of the group and its description.
You can choose among the users already created which ones (or the one) will be part of this group.
It is possible when creating a form to check a box in the Advanced Settings called "Restrict access to the form". If you have done this in one or more forms, you will be able to allow or deny access to the form for this group (red arrow). You will see all other forms accessible to all users (green arrow).
Group permission
To manage the permissions of each group, click on "Users and rights" then on "Group permissions" in the menu on the left.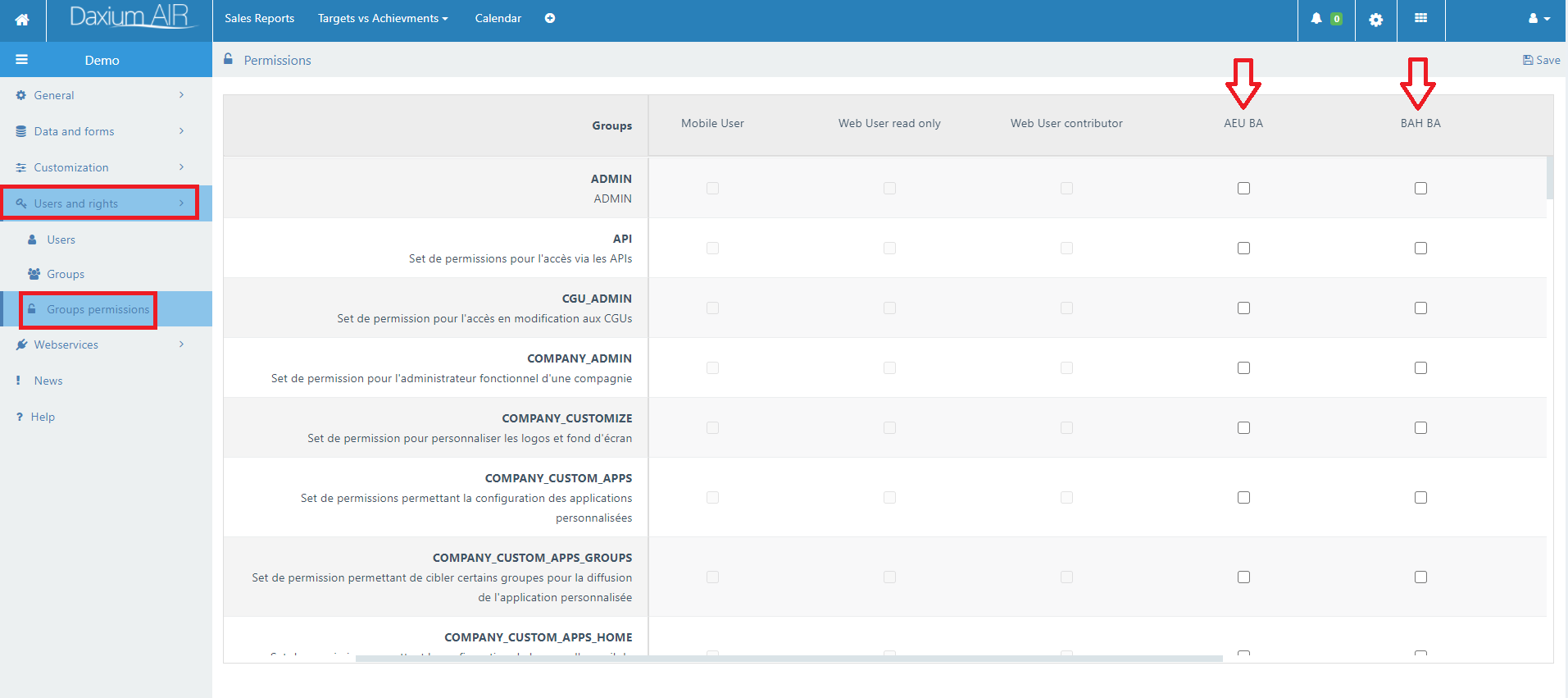 You can check the boxes in the column of the group that interests you to assign specific rights to it.
Save your changes before exiting this screen.
You now know how to manage your users, groups and their rights.